Production and sale of wheel clamps for cars and vans
Slide the rack out from the boot. Moving the boot by 90°, slide it between the tire and the wheel arch - see the photograph.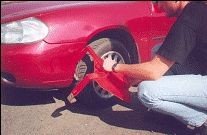 After sliding the boot into the gap, turn the boot back by 90°, by which you will put it on the car wheel.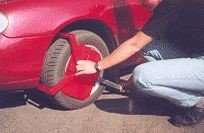 When the boot is in this position, push the rack back into the boot and tighten it to the tire with the use of an Allen wrench. When properly tightened up, lock the boot with a key. The boot is thus secured against loosening.